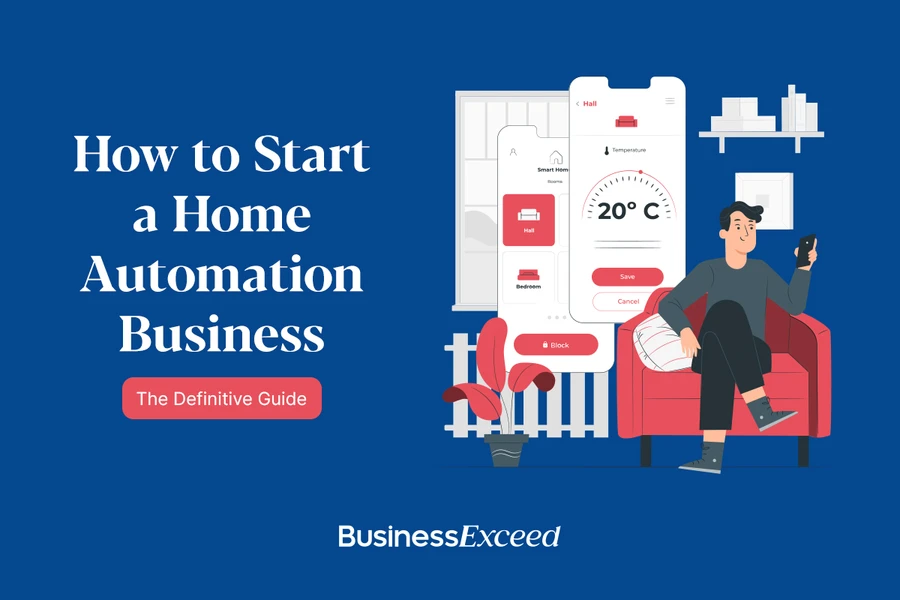 Home automation is one of the fastest-growing businesses in the world today. Its market size is expected to grow to US$114 billion by 2025. It has the potential to become a new-age interior design business.
This guide covers a step-by-step process on how to start a home automation business from scratch. It also includes answers to some of the most common questions associated with starting your new home automation venture.
Here is the list of what is included in this guide. Deep dive into each step by clicking the respective section.
Why now is a good time to start your home automation business?
Innovation and availability: Increased competition among equipment manufacturers (Google, Amazon, Honeywell, etc.) has resulted in more innovations and widespread availability across the industry.
Customer demand: Increase in disposable income among the urban population has resulted in higher demand for automation systems, Internet of Things (IoT) equipment, and smart services.
Benefits: It improves convenience, savings, control, comfort, and safety in people's lives.
Opportunity: Homeowners can manage few devices by themselves. But a smart home would include 10+ devices working in synchronization. It can be challenging for them to ensure system security and reliability. As a professional, you can make this process seamless for homeowners by providing packages. A package could include installation, after-sales support, and maintenance.
Production: Decreasing cost of IoT devices due to mass production by China.
Ecosystem: Availability of user-friendly apps such as Apple Shortcuts, Google Home, Microsoft Flow, IFTTT, and Zapier. These enable users to create their automation flow through smartphones. You set up the infrastructure, and these apps make it easy for customers to use the system for daily operations.
What are the steps to start a home automation business?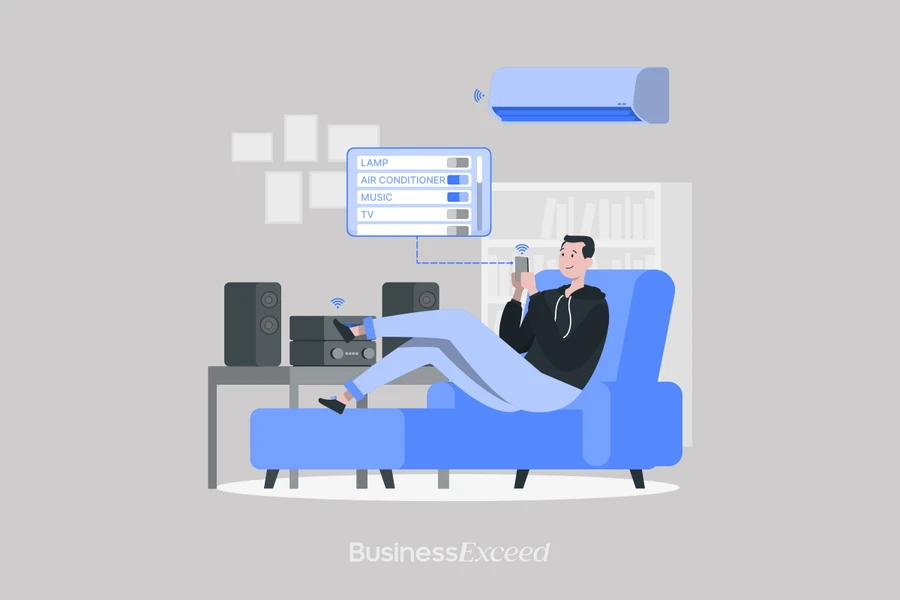 We have created an easy-to-follow 15 steps process from start to finish.
Step 1: Decide the home automation products and services you can provide
Products
Services
Smart bulbs
Smart switches and plugs
Smart home appliances
Virtual personal assistants
Controllers
Appliance controls
Motion sensors
Ventilation, temperature, and flood controls
Smart irrigation systems
Thermostats
Ventilation controls
Drapery, blind, and window opener systems
Door and gate open systems
Garage remote and controllers
Smart door locks
Alarm systems
Smart wireless bells
Security cameras
Fire and flood sensors
Audio and video distribution systems
Smart vacuum and floor cleaners
Smart air purification and conditioning systems
Bespoke design services
Consulting
Industrial design
Automation setup
Custom app development
After-sales support
Maintenance services
Step 2: Determine your home automation business model
Here are the business model options you can choose to start up your business and expand as you grow:
Buy and sell: Source products from distributors of various equipment manufacturers and sell to the end customers.
Custom solution: Provide bespoke solutions based on customer's requirements and house infrastructure.
Maintenance: Provide maintenance services such as on-demand tech support, periodic software updates, and security assessments.
Collaboration: Collaborate with building architecture and construction firms to provide expert advice to build an automation-ready home during the pre-construction and construction phase.
Step 3: Define your specialization
Most entrepreneurs start this business as an end-to-end provider where competition can be high. You can improve your chances of success by focusing on specific users or use cases. Focus on being the top go-to provider for it in your service area.
Here are some of the uses cases you can consider to kick-off:
Multi-room connected music
Building-wide smart flood detectors and sprinklers
Automated thermostat and temperature management
Smart lighting system
Smart kitchen
Smart nursery
Smart pet care
Smart elderly care
Smart medical care
Smart baby management
Advanced security and alarm system
Grid-based WI-Fi installation
Step 4: Specify your target customers
In this step, decide who your target customers should be. Most current home automation customers are:
Affluent homeowners belonging to upper-middle class or upper class.
People with large houses. A bigger area would require more devices, thus more profit.
Now let's find out where these potential customers live.
Step 5: Outline the geographical service area to cover
Decide the extent of the service area. Here are few questions to help you make this decision:
Do you want to cover the entire city or a small local small community?
Cover only the 20 miles area in your office's radius?
Focus only on a specific type of home such as farmhouses or green societies?
Now that you have defined your service area, let's see how much competition we will need to face.
Step 6: Assess your competition
The easiest way to find your home automation business competitors is by searching on popular local search engines:
Google My Business
Google Maps
Yelp
Yahoo Local
Angi
Whitepages
Houzz
HomeAdvisor
Porch
Research their brand channels such as website, social media pages, reviews, etc. to find more.
1. Categorize your competitors into these three categories
Direct competitors: businesses that offer the same products and services as you, to the same customers in your target area.
Indirect competitors: businesses that offer slightly different products and services or serve different sets of customers in the same target area.
Substitute competitors: businesses that offer different products and services to the same customers in your target area.
2. Gain insights about your competitors
Understand what are the products and services they offer, pricing, brand positioning, brand identity, market reputation, strengths, and weaknesses, etc.
3. Strengthen your profile
Outline your value proposition, competitive advantage, and unique selling proposition. Clarity on these aspects can help you target the right customers and help you become an authority.
Here are some of the questions to ask yourself to come up with your value proposition, competitive advantage, and unique selling proposition.
What are your offerings?
Who are your target customers
What are the customer pain points you help solve
How your offerings benefit the customers
How are you different from your competitors?
Tip: Consider speaking to your competitors directly. You can arrive at areas to collaborate, expand capabilities or refer businesses temporarily not serviced.
Step 7: Choose your business operating model
Here are the business operating models you can consider:
Franchise
Sole proprietor
A proven operating model. It is well organized and can help make the startup process faster and easier. Franchisors provide important assets and support to help you get started. They give brand identity, existing market presence, CRM, data management system, insurance, customer acquisition methods, licensing support, standard operating procedures, marketing materials, etc.

In this model, you will need to follow a franchisor's rules and profitability can be lower (in comparison to a sole proprietorship model).
In this operating model, you own the business and the brand that you build. Starting up and establishing yourself in the market can be time taking and expensive process. You will need to figure out licensing, insurance, company formation, brand building, etc. on your own.

However, you get the ability to earn more money (as compared to the franchise system), be your own boss, and create your solutions.
Can you operate a home automation business as a freelancer?
While nothing is impossible, you can face challenges while tackling multiple capabilities as a solopreneur. Capabilities include device setup, wiring, piping, inventory management, procurement, invoicing, customer service and relationship management, sales, and more. We suggest starting smart small with 2-3 team members and expand your team as you grow.
Step 8: Ready your team
Ensure your team has the required skills, training, and equipment before serving customers.
Prior skills related to an electrical engineer, programming, and cybersecurity can help you kick start much faster.
If you had prior experience setting up CCTV cameras, home Wi-Fi networks, etc., then it will be easier for you to transition into a home automation business.
Most systems are easy to install and don't take much time or effort. Some complex requirements may require more effort and specialized expertise. If you decide to serve complex projects, ensure capability.
Be good at preparing competitive pricing options and negotiating with customers.
Need good interpersonal skills and patience.
Step 9: Plan your pricing options
Here are few questions to help you create your pricing plan:
Charge based on the value that you provide?
Charge by time (hour, days etc.) or a fixed fee?
Charge based on competition-based pricing?
Charge based on a fixed profit above costs?
Dynamic pricing based on customer segments, time of the year, and other factors?
Initial lower pricing to beat the competition and penetrate the market?
Price skimming to offer a higher price initially then lower overtime?
Step 10: Identify your suppliers
Identify your equipment and service providers, and maintain a close relationship with them. Many times you may need to source items at short notice. Good connections can make sourcing faster and easier for you.
As the industry is evolving, new providers are emerging. Here is a list of leading home automation companies and equipment providers. These have established distribution networks. Check their websites to find their distributors in your region.
Nest by Google
Apple
Ring by Amazon
SmartThings by Samsung
Control4
Microsoft
Nokia
IKEA
August Home
Arlo Technologies
Philips Hue & Dynalite
Assa Abloy
Belkin
iControl Networks
HomeSeer
Vera Control
Schneider Electric
Honeywell
Siemens
Legrand
Vantage Controls
Fibaro
Yale
Panasonic
Corvi
ABB
Pulse-Eight
Skylink
Truth Hardware
Canary
Notion
Savant
Hogar Controls
Wink
Avisio
TIS Control
Crestron
Gira
Leviton
Jung
AMX Richardson
Loxone
KNX
Qubino
Osram Lightify
Zemote
Lifx
Sonos
Bose
Zipato
Step 11: Arrange funds for initial investment
To start your home automation business you need initial capital for various expenses. This includes company setup, insurance, licensing, website development, marketing, initial equipment inventory, essential professional tools, office rent, etc.
Some of the ways you can raise capital for your home automation business:
Self-fund with your savings
Friends and families
Crowdfund through websites like Kickstarter, Indiegogo etc.
Bank loan
Loan from microfinance firms
Government schemes and seed funding programs
Angel investors
Step 12: Create your brand assets
Create a unique and memorable brand while ensuring that you are not infringing on any copyrights or intellectual property. It includes your brand identity: logo, templates, business cards etc.
Create a website that reflects your brand value and expertise. Use this website to showcase your case studies, portfolio, customer stories, news, contact details, social media pages, and more.
Step 13: Register your business
By this step, you would have gained a much better understanding of your business. Now let's get down to making it a reality. Please note that these steps will vary based on your region and selections made in the steps above.
Create your business plan
Pick your business location
Register your business
Register your trademark
Get your tax ID
Apply for lincenses, permits and certifications (as per your location)
Open a business bank account
Step 14: Create a promotion and customer acquisition plan
Decide how you want to promote your business and acquire more customers:
Direct mailing flyers to homeowners
Billboard placement
Local newspaper advertisement
Free demos
Release a PR post
Online ads
Search Engine Optimization (SEO)
Participate in tech and home automation conferences
Social media marketing by targeting people in specific areas
Create and publish informative videos on YouTube
Gather and promote customer success stories
Capture leads through lead generation pages
Email marketing
Step 15: Launch your business
To help drive more buzz and people around your business, create introductory offers. Promote your offers on the marketing channels selected in the previous step. Start to answer calls and messages on all your brand channels.
Congratulations! Exciting times ahead to see your business grow.
Frequently asked home automation business questions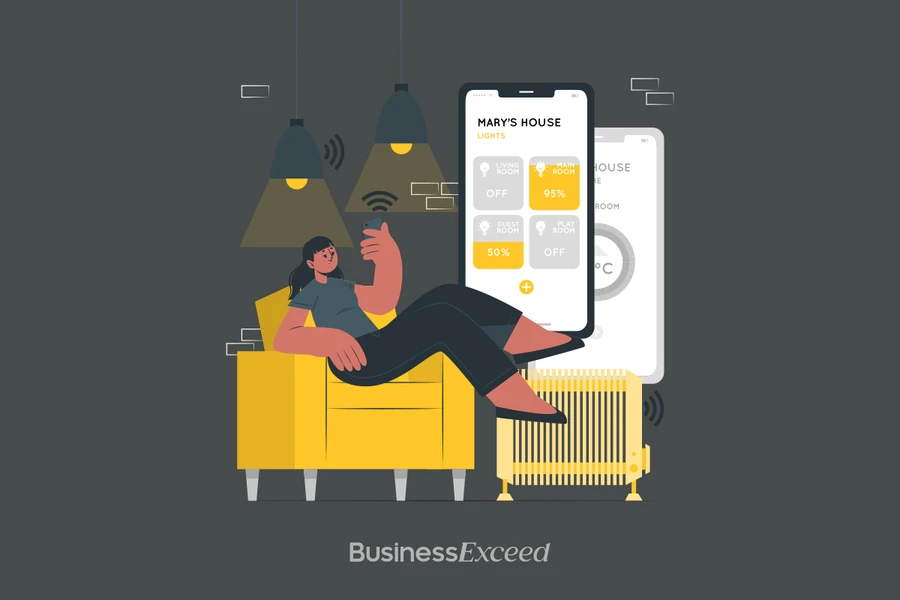 How to grow a home automation business?
End-to-end solution: Collaborate with interior design, architecture, and construction companies to provide a holistic solution.
Targetted offer: Reach out to housing societies where you could position your services for a special price. It can be a win-win for you and your customers. You can get more volume of work (with fewer variations among houses), and they get your services at a more affordable price.
Sell your expertise: Publish a book or provide an online training course. It will not only generate more money for your company but also increase your authority in the market.
Sales assets: Smart house setup is a high-value transaction and customers will take price quotes from multiple providers. Be proactive to answer their calls and respond to their queries on your website, emails, social media, etc. Prepare your elevator pitch, PDF brochure, rate cards, pitch templates, etc. to close faster.
Respect privacy: Always portray a high level of professionalism as part of your project. Because you would be in a customer's house where it is likely that you will see intimate things to the house owners.
Scale on demand: Maintain strong relationship with providers of HVAC systems, lighting control systems, occupancy aware control systems, smart grid, smart meter, solar panels, home robots, leak detection sensors, carbon dioxide detectors, indoor positioning systems, air quality control, voice assistance setup, etc. to be able to make available to your customers quickly when there is a quick up-selling opportunity or a larger project.
Choose high-end equipment: Try to avoid using DIY systems (like Samsung SmartThings). They are not as reliable as compared to the hardware and software systems from leading brands. Leading brands specialize in building dependable products with low failure rates. Implementing higher-end equipment can enhance customer satisfaction and your business's credibility.
System specialization: Focus on a limited number of systems that you can manage and create expertise. It can be difficult to learn, manage nuances and implement multiple systems.
Start with your own house: Consider your house to be your first project. It can help you learn the process of translating all your requirements into a smart home reality.
What are real-life home automation use cases?
Home temperature: As you are 10 minutes away from your house (ETA based on the phone's geolocation), an air conditioner automatically gets switched on, and sets the temperature to 21 degrees Celsius.
Garden: Automatic turning on/off lights and sprinkler in your garden at your specified time.
Light mood: Change the mood of the entire room or house to a specific color of lights. For example Sunset Beach or blue sky.
Remote child care: Get remote access to your child at home through a smart camera that allows two-way communication.
Elderly care: Enhance convenience and care for the elderly in your house. Smart devices can detect if they move into the staircase area or feeling distressed. In such situations, the system can automatically notify you. This can be achieved using smart cameras, video doorbells, motion sensors, wearable tech, etc.
Home statistics: Use your app and get to know at what times your garage was opened, a fireplace was lit or who entered your house.
Security alerts: Alerting you if something is not right in the house. For example, you forgot to close one of the doors on the balcony.
Energy savings: Increase energy savings by connecting multiple systems like lights, thermostats, and smart appliances, and turn them off when not in use.
Custom triggers: Create custom functions involving various devices in your house like a dryer, smart security system, dishwasher, music system, television, smart fire system, flood detectors, smart window dressing, etc.
Improve work: Improve your productivity by maintaining your preferred work environment.
How do your day-to-day daily operations look like?
Constantly pitch to get new customers online and offline
Manage your existing clients and prepare new ways to up-sell
Prepare your financial projections
Stay up-to-date with new happenings in the home automation industry
Conduct market analysis to expand customer base
Prepare plans to bring new and exciting offerings to automate the house
What are the challenges with a home automation business?
Internet availability: It can be a major issue especially in remote locations. Low availability, inconsistent or low bandwidth, frequent disconnections can prevent systems to work effectively.
Skilled professionals: Because of strong logistics channels across the world equipment can be easily shipped anywhere. The same is not the case with people who are capable to design, install and maintain smart home systems.
Complex systems: Some customers' requirements may require infrastructural changes that can be complex. It includes smart power grids, smart drainage, automated sanitation system, smart water supply, other building management systems.
What are the other names for home automation?
It is also known as demotics and the buildings equipped with these systems are also known as 'smart home', 'smart house', 'smart office', 'smart kitchen' etc.
Conclusion
Hope you found this resource helpful. Please let us know your suggestions in the comments section below. Please consider sharing this resource with more people who will find it useful.