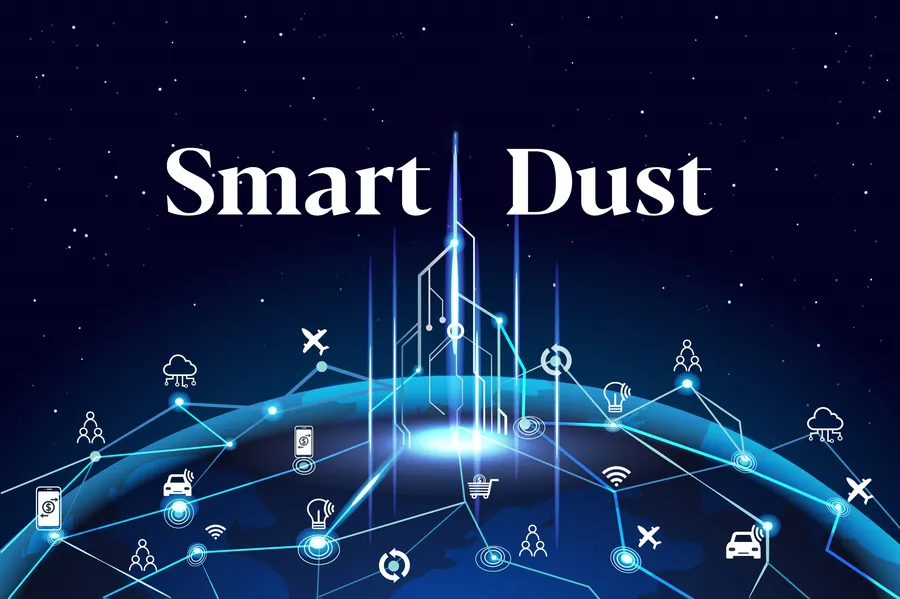 Imagine a world where you are surrounded by thousands of tiny robots, tracking every move you make. This imagination is coming true with Smart Dust technology.
What is Smart Dust?
Smart Dust is sensors, robots, or devices that measure few millimeters in size, can detect states such as light, sound, movement, magnetism, chemicals, and/or temperature, and can autonomously share information over a wireless network. They are also known as microelectromechanical sensors (MEMS).
How does Smart Dust technology works?
Sensors and wireless receivers are installed in the target area.
Collect data by detecting environmental state such as acceleration, stress, pressure, humidity, sound, etc.
Process the data against onboard memory data for validation.
Store the data in memory.
Wirelessly communicate the captured data to cloud systems, wireless receivers or other sensors in the network.
History
The emergence of Smart Dust began in 1992 with initial concepts developed in a workshop at Research And Development Corporation (RAND). It utilized studies by the Defence Advanced Research Projects Agency (DARPA) and Information Science and Technology (ISAT) for military applications of the Smart Dust technology. This initial work was greatly influenced by prior studies on nanotechnology motes at UCLA and the University of Michigan. It also made use of perspectives of science fiction authors Stanislaw Lem, Neal Stephenson, and Vernor Vinge.
In 1996, the capabilities of this new technology were showcased for the first time at an American Vacuum Society meeting in Anaheim.
In 1997, three professors from the University of California, Berkeley (Kristofer S. J. Pister, Joe Kahn, and Bernhard Bose) presented a proposal to build wireless motes with a volume of one cubic millimeter. It received funding in 1998 and led to a working prototype and "COTS Dust" devices that enabled the development of TinyOS at Berkeley.
In 2001, Kris Pister took his research even further and revealed methods to take Smart Dust to the micrometer level.
USA army conducted a successful surveillance test in which they calculated the speed and direction of 142 army vehicles.
In pursuit of taking the momentum to a larger scale, Kris Pister, Tod Dykstra, Rob Conant, and Brett Warneke established Dust Networks in July 2002. Now the focus shifted from conceptualization to commercial applications.
In July 2004, they delivered their first commercial product called SmartMesh shipping.
Dust Networks got acquired by Linear Networks in December 2011, which in turn was acquired by Analog Devices, Inc in 2017.
Practical Applications
Monitor crops to detect watering, fertilization, pest control etc.
Determine corrosion, leakage and noise in machines to prevent breakdowns and timely alerts for maintenance.
Monitor people and objects to improve security, safety, efficiency and compliance.
Alert military for activities in inaccessible areas, detect harmful toxic/poisonous substance or radioactivity.
Improve inventory control and logistics efficiency.
Enhance healthcare by auto monitoring to detect fever, skin discoloration etc.
Aid patients with disability by detecting blinking, face twitches, harmful movements, etc.
Advantages
Improve productivity
Monitor, control, and manage various operations across any workplace. Workplaces can include manufacturing plants, office buildings, and agricultural lands. To detect and reduce wasteful efforts to enhance employee efficiency. Also, uncover actionable insights to streamline processes.
Enhance security
Once implemented, it can benefit businesses in multiple areas. It can play a vital role in enhancing commercial security framework, intruder detection, non-surveillance floor sensors, perimeter security, etc.
Gather and analyze data on heartbeat, respiration, emotions, sentiments, etc. through wearable sensor-based devices, voice recognition to detect intoxication levels, and lie detection attributes.
Reduce infrastructure costs
Save costs and downtime by implementing Smart Dust systems. Example: Identify machine malfunctions in advance, make streetlights work on human proximity, trigger elevator button as you enter the building, monitor and get alerts on plants health. These tiny robots are less expensive and faster to reinstall as the environment changes.
Foster automation
Understand precise patterns of workflow to convert repetitive tasks into automated systems. This will enable better utilization of resources across the business.
Disadvantages
Privacy concerns
A major concern surrounding Smart Dust technology is its capabilities to breach human privacy in innumerable ways. Governments will be required to implement legal regulations to allow fair usage of the technology.
Control
Once Smart Dust sensors will surround the world, it could be difficult to capture them without being aware of their presence. Or if they lose connection or malfunction. Strict geological systems to control and prevent any harmful use.
Cybersecurity
Cyber-attacks are constantly among the top new headlines across the world and Smart Dust is vulnerable to illegal acts by hackers. Systems require consistent threat prevention, vulnerability assessment, and software patches.
Subject Matter Expertise
While motes and sensors are inexpensive, their implementation and maintenance require specialized professional help that doesn't come cheap due to the scarcity of experts today. The need arises even further in case of system breakdown or cyber attack.
Proximity
Smart Dust can only function in very close proximity to each other or its receiver. Unlike some of the Internet of Things sensors that can capture information from a much wider area wirelessly.
Lead Innovators
Dust Networks
General Electric
Cargill
IBM
Cisco Systems
Hewlett-Packard (HP)
Neuralink Corporation
Emerson
Legal, Ethical and Moral Issues
Regulation
Recognizable regulatory standards should be applied to every device, and the systems should be patch-able to take new security concerns into account. With the widespread usage, it is essential to comply with international data privacy regulations and strengthen the security with government and industry-driven regulations.
Licensing
To prevent illegal replacement, intrusion of data, and other unethical practices, each device must be licensed and receive a unique code. Manufacturers must ensure authenticity validation for all their mass-produced devices.
Fear
Being tracked without personal knowledge or always being cautious of being tracked can induce anxiety and fear among people.
Books
Smart Dust: Sensor Network Applications, Architecture and Design by Imad Mahgoub and Mohammad Ilyas
One of the first and the most comprehensive book on learning about Smart Dust from multiple angles. It covers opportunities and challenges in wireless sensor networks, next-generation technologies, program-ability, sensor network architecture and applications, practical perspective, power-efficient topologies, communication protocols, positioning, and location tracking, data processing techniques, cooperative computing, dynamic power management, design challenges, and security and privacy protection.
Smart Dust Complete Self-Assessment Guide by Gerardus Blokdyk
As we embark on an era that tiny sensors will surround, it becomes imperative to self-assess the organizational readiness to implement Smart Dust systems. And this book presents a self-assessment questionnaire and a seven-criterion scoring system to help you realize the gaps in business process architecture, design, and quality management.
Further reading
Smart Dust Is Coming. Are You Ready? by Bernard Marr – Forbes
Advancements in Nanotechnology-Based Smart Dust by By Dr. Priyom Bose, Ph.D. – Azonano