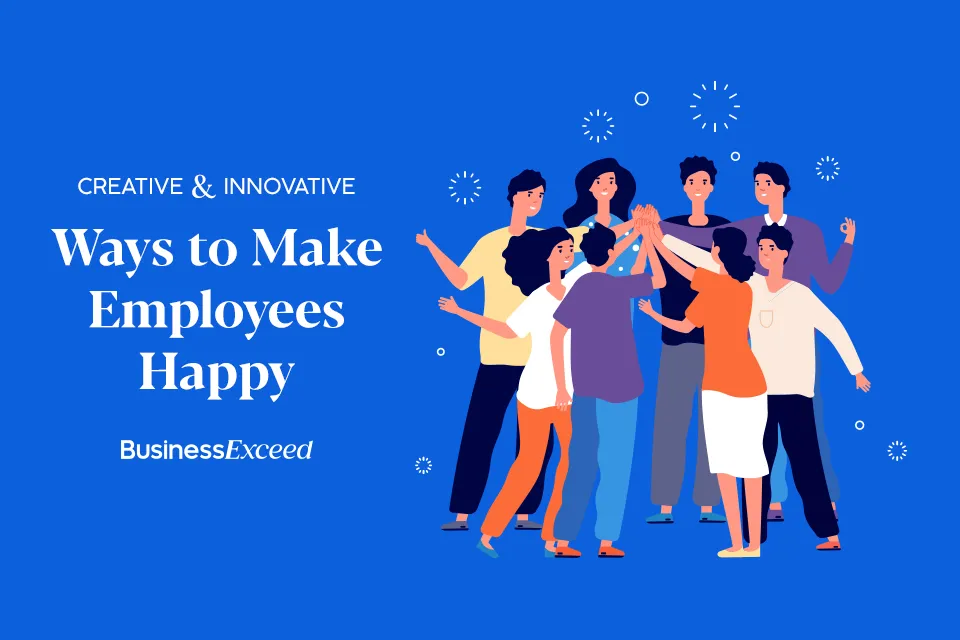 While working as a management consultant, I interacted with individuals from many successful and budding organizations. In most organizations, there are budgets and focus on empowering and enhancing employee satisfaction. Yet many of them could use just a little touch of creativity and innovation to make employees love their employer.
Every organization wants to attract and retain world-class talent.
Below are select ideas you can explore to make your employees happy.
1. Appoint a Chief Happiness Officer (CHO)
As the name implies, the Chief Happiness Officer is the executive responsible for maintaining and enhancing happiness levels in an organization. CHO is a part of the human resource function and focuses on one aspect – employees' happiness.
The purpose is not just to offer conditions to retain employees but to make the employer a source of satisfaction. ensure
What are the tasks of a Chief Happiness Officer (CHO)?
Ensure employees feel valued.
Build a culture that listens to employees.
Reduce burnout rates.
Allow freedom to make amends to work, job profile, team, etc.
Ensure you meet the basics such as competitive salaries and good working conditions.
Support employees' growth through new work challenges, focused training, etc.
Promote work-life balance.
Create a positive work environment.
Review all company policies from a happiness perspective.
2. Incentivize Wellness and Healthy Habits
Wellness and health directly affect employees' productivity. Leading causes of unhealthy behavior are bad food habits, prolonged sitting/lying down, and inadequate or no exercise.
Employee wellness programs help employers engage employees and promote healthy habits that improve individuals' lives.
What are the ways to incentivize wellness and healthy habits?
Amazon gift cards for employees that achieve 250,000 foot steps in a month.
Visit a gym, yoga, or fitness center 300+ days a year.
Fixed discount to employees' corporate health insurance premium.
Chance to win gifts like a piece of fitness equipment, premium ergonomics chair, motorized standing desk, fitness tracker watch, etc. 
Organize milestone celebrations and recognition events with award handouts.
Parking incentives for choosing most remote spots.
Subsidized price for cafeteria items with highest nutritional value.
Replace sick leave policy with a wellness-based in incentive policy.
How to implement an employee wellness program in your organization?
Any company's human resource professionals can implement the ideas mentioned above, track results, and course-correct over time.
The implementation can be more straightforward if integrated with digital apps such as Google Fit, Apple Health, Samsung Health, etc.
Wellbeats, BetterYou, and Bravo are select professional employee wellness program providers that help implement these systems with ease.
3. Create an Ergonomics-Friendly Workplace
Every employee should feel comfortable in their work environment. Each individual has their unique preferences about their workstation and what they consider comfortable and productive.
Ergonomics is the study of how people work and interact with their workplace. It includes interaction with office chair, desk, keyboard, monitor, mouse, and their placement.
Improper work ergonomics can lead to work-related musculoskeletal disorders (WMSD).
How can you make your workplace ergonomics-friendly?
Promote good working posture through ergonomics expert sessions, webinars, infographics, diagrams, and videos.
Replace existing chairs and desks with adjustable ones.
Install right monitors with optimal height and distance as per employees' needs.
Invest in ergonomics-friendly keyboard and mice.
Monitor and reduce repetitive movements.
Promote frequent standing up and moving around.
Maintain a happy working environment through lighting, temperature, humidity, and plantation.
Reduce computer display fatigue using stress-reducing paintings and artworks in the office.
Allow employees to install personal ergonomics equipment. For example, a footrest could be comforting for a pregnant woman.
4. Engage Employees through Gamification
According to a Gallup poll, gamification leads to 147% better performance, 25 to 65% less turnover, and 37% lesser absences.
Gamification uses game-based techniques such as scores, rewards, and competition in a workplace setting. Here employees engage with their work through targeted skills, goals, and objectives.
It works to help people complete the assigned tasks and motivate them to work towards completion.
What are the benefits of workplace gamification?
Easy to implement using digital app-based systems that can reach the entire company at a low cost. 
Help connect the organization as a whole with firmwide rankings and achievements. 
Provide instant feedback and rewards.
What are the ways to engage employees through gamification?
Game-based learning and training through interactive quiz/trivia that auto-scores and spots improvement areas.
Real-time automated recognition through behaviors and actions monitoring.
Ranking and recognizing employees who received the most positive feedback from clients.
Spin wheel reward cards for achieving a threshold.
Earn profile badges to recognize employees.
Progress bar highlighting reward thresholds.
5. Setup an "Exceed Together" Reward System
Some companies encourage infighting, extreme competition, and knowledge holding to make employees compete. It helps meet targets in the short run. In the longer run, it damages reputation, sales, profits, and effectiveness.
An organizational culture where employees help each other generously is a vital factor that makes them innovative.
Exceed Together reward system is a method to measure employees supporting each other and rewarding them.
It starts with quantitative tracking support given from one employee to another. Develop KPIs that encourage people to collaborate and innovate with unrelated teams in the organization.
Each employee gets their dashboard that shows who they helped, time devoted, feedback received, earn a badge of honor, etc. Organization-wide rankings further support this.
What are the ways to encourage employees to support other employees and improve collaboration?
Pay it forward approach: One person who received help returns the same or more support to another employee.
Reputation rewarding: Employees who received high scores of helping others get rewarded with help from other employees.
Share memorable acts: Gather and share stories with the rest of the people for inspiration and encouragement.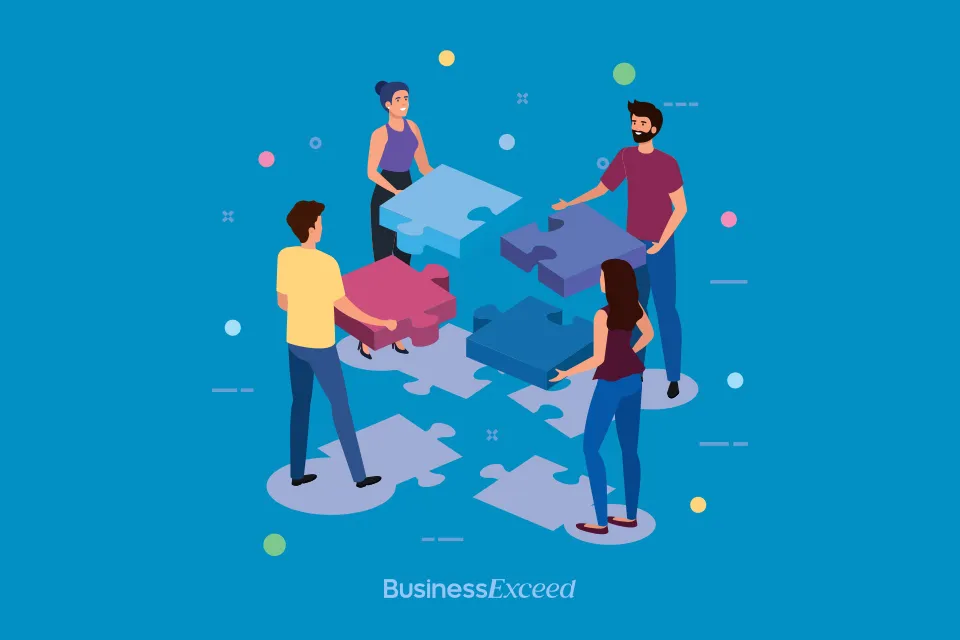 6. Invest in an Employee Experience Platform (EXP)
An employee experience platform is a cloud-based software system that acts as an interface between employers and employees to improve engagement and workplace experience.
It works in all phases of any employee's journey – induction, daily operations, transfer, and exit.
Benefits of Employee Experience Platform are:
Control your organization's brand experience.
Enhance productivity and employee engagement.
Receive frequent feedback.
Reduce layers of ambiguity in communications.
Leading providers of employee experience platforms are Accenture SynOps, Common, and Nectar.
7. Create and Harness Idea Sheets
An idea sheet is a one-page document where you conceptualize your idea, ask specific questions, and share within your organization to seek feedback from diverse people in various departments. This helps more people invest in your thoughts and foster firmwide collaboration.
8. Build an Employee Care Notification System
People love people who remember little details about them.
Once an influential person like a supervisor, manager, or firm leader pays attention, it goes a long mile. This can make employees feel important and respected. In turn, it makes them stick longer with the organization.
An employee care notification system is an approach to track and bring up important things to the employee at the correct movements. This could mean an early leave and a surprise early leave on certain days when you know they have a personal occasion.
How to create an employee care notification system?
Use tools like Outlook Calendar, Google Tasks, etc., to record events with a notification trigger date.
Record, track and set up notifications for the things that are important to the employee. These things can come as part of various conversations (formal and informal). For example, mother's silver jubilee celebration, child's first school day, 1,000 Instagram followers, blog post success etc.
Plan a cake celebration and extra leaves to show that you care to enhance employees' satisfaction towards the firm.
9. Allow Employees to get Next Level Training
Employees are trained on things that make their job easier and turn them into more capable professionals.
In addition to this, train them on rank expectations of various roles and levels in the organization. It helps them understand the roles and responsibilities of the person they are reporting to and what they are expected to do to achieve that level.
This, in turn, fosters transparency and understanding among various people in various roles in the organization. This helps in reducing workplace conflicts, mismanagement, and misaligned expectations.
10. Introduce Rapid Process Automation (RPA)
In recent years there has been a significant shift in rapid process automation.
Implement automation systems to reduce repetitive tasks and help focus employees on creative output that brings out their innovativeness.
Leading tools to automate tasks are BluePrism, UiPath, and Automation Anywhere.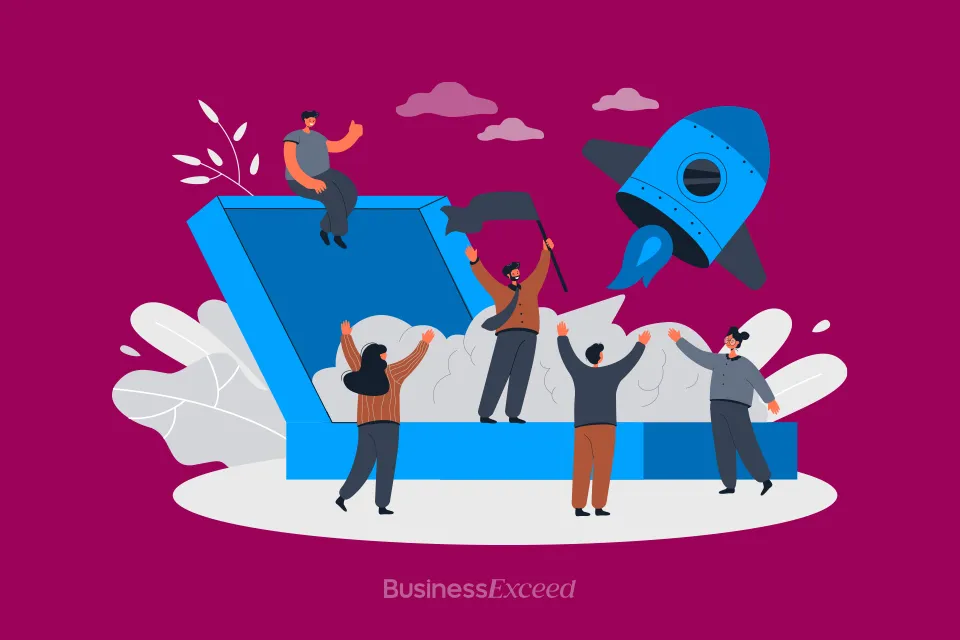 11. Capture and Showcase Employee Stories
According to Harvard Business Review, 82% of employees think social media can improve their professional relationships. Employees who use social media to connect with coworkers tend to be more motivated and have innovative ideas.
How does showcasing employee stories on social media help organizations?
Recognize and motivate your employees.
Build an impactful employer brand.
Enhance recruitment marketing.
Give candidates an insightful look into your company's culture.
Enable individuals to showcase their personal brand.
How to capture and showcase employee stories?
Build a marketing campaign to stay consistent and plan the rollout of employee stories to the world.
Pick the channels where you want to showcase these stories. It includes LinkedIn, Facebook, Twitter, Yammer organization homepage, etc.
Decide the type of content you want to create. The content can be created in multiple formats: graphical social media posts, in-person videos, videos with graphics with voiceover in the background, GIF images, etc.
Identify employees with notable professional or personal achievement or experience that aligns with the organization's culture.
Capture the story with recordings. Don't forget to take consent to publish their story.
Build the content pieces in formats applicable to social media channels.
Roll out to the world.
12. Allow Role Re-definition
Also known as job crafting. It is a process where individuals alter the type, scope, sequence, and/or tasks to improve their job in alignment with their interests and career goals.
It helps the organization through improved individual performance, commitment, engagement while taking on more challenges. It keeps employees happy by assisting them to achieve their ideal career status.
13. Give Perks that Matter
Annual raises and complimentary snacks on Friday are not enough to keep employees engaged and happy anymore. Employees can buy their snacks, and the yearly raises are usually not life-altering.
When companies don't offer meaningful perks, they start to search for another employer.
What are the perk ideas that are valuable to employees today?
Personalized bucket list experiences. It can be crafted using the Blueboard platform.
Provide a home office setup budget.
Give vacation and paid-time-off as a reward.
Performance bonus.
Flexible schedule.
Tuition reimbursement.
Free gym membership.
Equity.
Complimentary childcare assistance.
14. Setup a Happiness Station
A happiness station is a space within your workplace that is meant for employees to take a break from work, desktops, paperwork, phone, etc. It can be an inviting and cheerful place where they are expected to take a break.
Google is a master at creating such speeches within their office.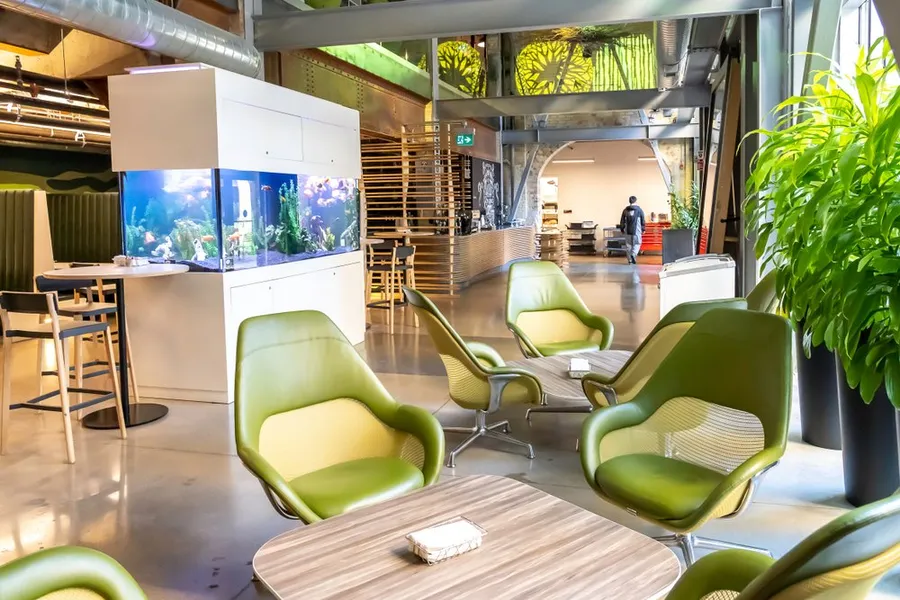 How can you build a happiness station in your workplace?
Create a space filled with oversized plush chairs, sofas, hammocks, floor pillows, etc.
Install fitness equipment such as exercise balls, yoga mats, treadmill, punching bags, etc.
Add soothing music and lighting to create a low-stress environment and ambiance.
Incorporate an aquarium, pond, or waterfall feature.
A garden area filled with colorful flowers and plants.
Incorporate aromatherapy. Bergamot oil is known to improve mood.
An electronic massage chair.
Beverages and free snacks.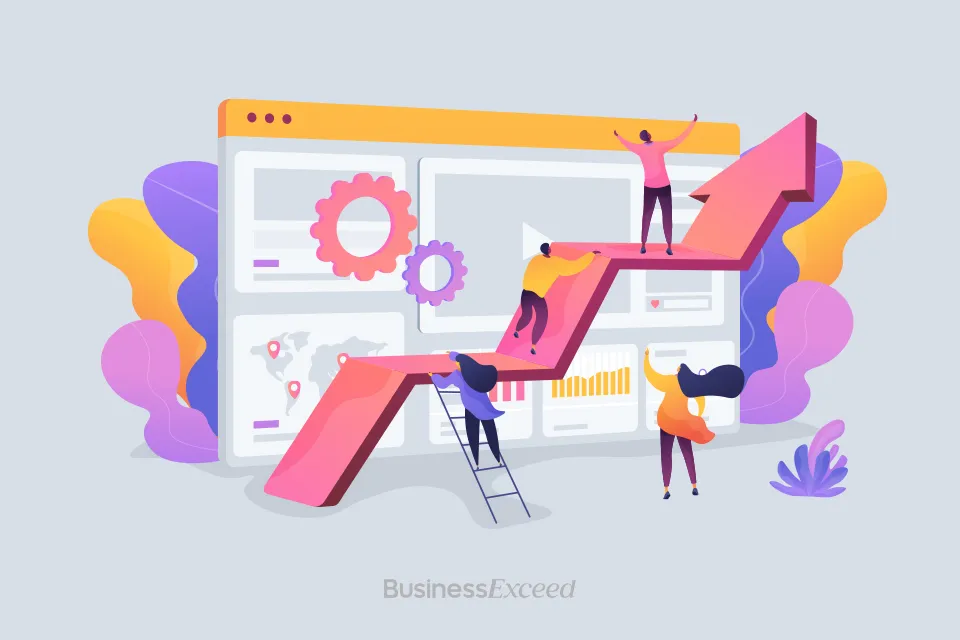 15. Explore Tier-Based Unlimited Compensation
Most companies compensate their employees based on ranges for every role and market competition. Think of a compensation model where employees receive a fixed or tier-based additional compensation that directly aligns with the company's profits.
When there is clarity, employees get motivated to work more productively. When there is no ceiling on their earnings, it can enhance commitment to meet organization goals.
16. Innovative Virtual Team-Building Exercises
The office world has changed significantly, mainly due to COVID-19, where most companies quickly moved to a fully remote work setup. It is essential to reinforce a shared team identity to bring teams closer like we used to in pre-COVID-19 times.
Gone are the days where monthly informal meetups, Friday happy hour, team quizzes would excite employees.
There is no better way to do this than innovative virtual team-building activities.
What are some of the innovative virtual team-building activities?
Virtual Clue Murder Mystery: Together with your colleagues, race against time to solve a deadly crime case virtually. This will probe and improve team members' problem-solving, collaboration, analytical thinking, and communication skills.
Virtual Escape Room: You and your team need to conduct a successful virtual heist. Steal a priceless collection of precious jewels before time runs out.
From Paris, With Love: Give your teams a time of their lives through guided Paris virtual bike tours, parties, trivia, cooking, and more.
17. Start an Office Design Committee
Now that employees are starting to come back to offices and fall back into pre-COVID-19 schedules.
We can take this as an opportunity to help employees craft their own office space that they would be more committed to. When people spend their time and effort, they are likely to like it more.
While due to effective office management practices, you cannot allow employees to change every bit about the office, yet to some extent, you can help employees personalize it.
This can be achieved by allowing things like plant placements, flowers, bulletin boards, selections of chairs and furniture.
18. Create a Happiness Website
Happiness is a click away.
Building an internal portal dedicated to providing tools and resources to help employees reduce stress and be happier.
What can a happiness website include?
Videos of other employees sharing their stories of how they overcome stressful situations and stay positive.
Links to select best articles on the internet on the subject of productivity and employee happiness.
A subscription or access to tools like BrainFM (a tool proven to help people concentrate better through music)
Share contact details of people who could help employees in stress.
Share tips as per workplace settings of various company offices.
Allow space for suggestions to be shown and voted openly on the website.
19. Build Step-by-Step Checklists
Build step-by-step checklists for tasks completion to promote more time on creative assignments.
Employees may be very busy with their day-to-day operations. Organizations can help make their tasks simpler by building step-by-step checklists filled with infographics that help develop work processes more streamlined and effective.
Involve them in building this checklist, improving consistency, and faster induction of new team members.
Conclusion
What do you think? I'd love to hear what you think about these creative and innovative ways to make employees happy.
Please let me know your suggestions in the comments below.